Housing Market Shows Sign of Slowing Down… or Has It?
Whether this inflation will be long lasting or transitory, there is no doubt that everyone's affordability is being impacted. Judging at the national level, we are now at a 31-year low.
Across the nation, our food, energy, roof over our head, and other necessities are seeing noticeable price increases. The low interest rate, continue government support, and supply chain disruption are all fueling the inflation. With the fear of resurgent of COVID due to variants, we expect this
situation to continue well into 2022.
Let's take a peek at some of the key stats and economic occurrences that are impacting the shelters of our fellow Canadians.
HIGHLIGHTS OF THE MONTH
January-June continues to record strong housing starts
Resale activity slowing but high prices still impact affordability
Condo transactions show signs of life compare to last June
5 TOP METROPOLITANS AT A GLANCE
Toronto Housing Market
11,106 of homes sold (+28% vs June 2020)
$1,089,536 in average price (+17% vs June 2020)
Montreal Housing Market
4,619 of homes sold (-7% vs June 2020)
Vancouver Housing Market
3,762 of homes sold (+54% vs June 2020)
$1,175,100 in average price (+15% vs June 2020)
Calgary Housing Market
2,915 of homes sold (+67% vs June 2020)
$494,111 in average price (+7% vs June 2020)
Edmonton Housing Market
2,729 of homes sold (+33% vs June 2020)
$398,229 in average price (+11% vs June 2020)
TOP MARKET NEWS AND INSIGHT
Canada Affordable Housing Initiatives
A budget was proposed to give CMHC $2.5B over 7 years. The goal is to support vulnerable Canadians by building, repair, or maintain 35K affordable housing units. The projects are across that nation.
Bidding Wars Extended to Rental Market
High residential prices have ripple effect on the rental market. Situation is even more dire for the single-family homes that cost $3-4K+ per month. As Dana Senagama, economist with CMHC said, "Traditionally, whenever there's a very heated ownership market, it almost duplicates itself in the rental market."
3rd Consecutive Month of Declining in Home Sales
While national housing activity has dropped significantly versus Q1. As a comparison, national Sales-to-New-Listing Ratio (SNLR) is at 69% in June versus 91% in January. Being above 60% in the ratio means we are still in the seller's market. MLS Home Price Index reflected that with 0.9% rise month-over-month.
Over Half of Home Buyers are Borrowing the Max
CMHC found 65% of recent home buyers are pushing their budget to the maximum. Bidding wars intensified the issue. In addition, it is not uncommon that first time home buyers get surprised by the higher than expected closing costs.
Change in CMHC to Qualify More Borrowers
At the beginning of the pandemic, CMHC tightened policy on mortgage insurance, which is required for home buyers with less than 20% down payment. They lost share to other insurers so they just reversed their policy in hope to gain back businesses. This translates to more options to help higher leveraged borrowers to get the required mortgage insurance.
Ramset T4MAG: The Long Wait is Over
Feel the improved productivity with this new tool.
Ramset's T4MAG is the best-balanced tool available and is easy to use overhead. It will give you 30% more power to work with in the toughest concrete. The T4MAG system will drive your job site productivity, lower user fatigue, and minimize downtime. Visit www.ramset.ca for more exciting info.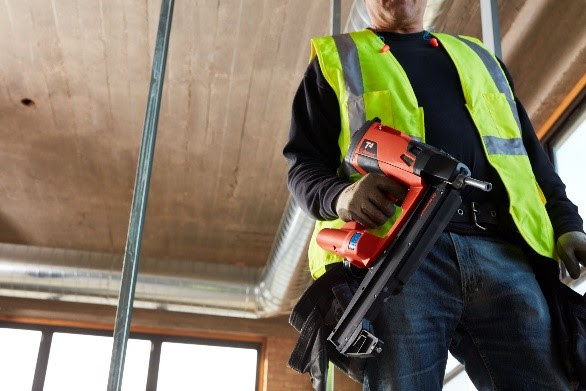 Sources:
Canadian Housing and Mortgage Corporation. https://www.cmhc-schl.gc.ca/
Robins Appleby LLP. "Canada: 2021 Budget For Housing". https://www.mondaq.com/canada/construction-planning/1081994/2021-budget-for-housing
www.newswire.ca. "Canada Supports Rapid Housing Projects in Halifax". https://www.newswire.ca/news-releases/canada-supports-rapid-housing-projects-in-halifax-866163590.html
www.newswire.ca. "Canada Supports Rapid Housing Projects in Durham Region". https://www.newswire.ca/news-releases/canada-supports-rapid-housing-projects-in-durham-region-880492309.html
Yahoo! Finance. "Government of Canada Provides 120 Units of Rental Housing in Ottawa". https://finance.yahoo.com/news/government-canada-provides-120-units-151000749.html
Better Dwelling. "CMHC's New Management Moves To Protect Market Share Instead Of Borrowers". https://betterdwelling.com/cmhcs-new-management-moves-toprotect-market-share-instead-of-borrowers/
Better Dwelling. "Over Half Of Canadian Home Buyers Are Borrowing The Maximum They Can: CMHC". https://betterdwelling.com/over-half-of-canadian-home-buyers-areborrowing-the-maximum-they-can-cmhc/
Better Dwelling. "Most Canadian Real Estate Markets Are Seeing Buyers Disappear Faster Than Sellers". https://betterdwelling.com/most-canadian-real-estate-marketsare-seeing-buyers-disappear-faster-than-sellers/#_
WOWA.ca. "Housing Market Report." https://wowa.ca/toronto-housing-market
Regina Leader-Post. "This is what a 'moderating' housing market looked like in June".https://leaderpost.com/moneywise/this-is-what-a-moderating-housing-marketlooked-like-in-june.
CREA. "Housing market continues to moderate in June" .https://creastats.crea.ca/en-CA/
BNN Bloomberg. "'Housing mania' sends affordability to 31-year low: RBC". https://www.bnnbloomberg.ca/housing-mania-sends-affordability-to-31-year-low-rbc-1.1623164
Disclaimer:
Data sourced from the regional Real Estate Boards, Canadian Real Estate Association (CREA), Canadian Housing and Mortgage Corporation (CMHC), and various other sources as specified below. Any analysis or commentary is the opinion of the analyst(s) at ITW Construction Products Canada and should not be construed as investment advice.
The content of this post is from our monthly newsletter. Be sure to subscribe to our email list to receive the most updated insight and in more detail.