Founded in 1912, ITW is a global industrial company built around a differentiated and proprietary business model. The company's seven industry-leading segments leverage the ITW Business Model to generate solid growth with best-in-class margins and returns in markets where highly innovative, customer-focused solutions are required.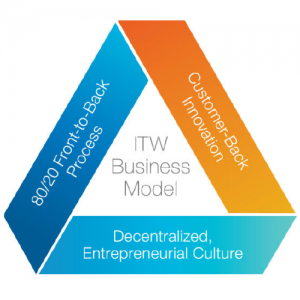 The ITW Business Model Is a Powerful Source of Competitive Advantage
The ITW Business Model is comprised of three elements: 80/20 Front-to-Back defines how we operate Customer-Back Innovation drives how we innovate. Our Decentralized, Entrepreneurial Culture is the key to how we execute.
ITW's Seven
Operating Segments
Automotive OEM
Food Equipment
Test & Measurement and Electronics
Polymers & Fluids
Welding
Construction Products
Specialty Products
Our Operating Segment:
Construction Products
ITW's Construction Products segment is a branded supplier of innovative fastening solutions that improve contractor productivity and building quality in residential, renovation and commercial construction. These products are uniquely specified for a variety of materials, including wood, concrete, steel, and engineered lumber. ITW's construction products businesses and brands hold positions in niche markets where ITW technology can address customers' unique needs like higher global standards for safety and energy efficiency as well as the growth of off-site construction projects. With presence in a variety of end-use applications and markets, ITW construction products are focused on value-added opportunities around the globe.